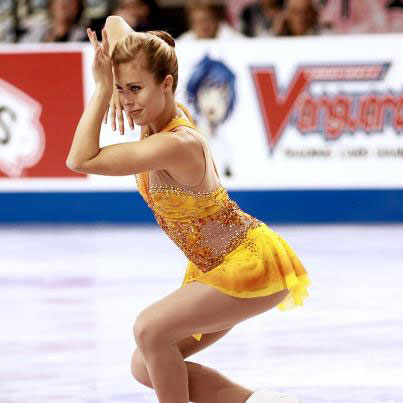 Ashley Wagner is the front runner of this competition. She looked almost unbeatable early in the season winning both Japan Open and Skate America. At her first grand prix she struggled a little bit in her short program two footing her solo jump (a triple loop) but gave a mesmerizing performance in the free getting a score around 127, the best season score of the ladies so far (she has the best season overall score too).
She has grown dramatically from last year and since Nationals she started to collect success after success.
She will need just a bronze medal for assuring the grand prix final qualification, but I think that she could easily go for a more satisfying ranking.
Second at Skate America, Christina Gao will fight for the final too, especially after

the result of Cup of Russia in which Murakami and Sotnikova, who were contenders for the final, didn't have a great showing.
She is very elegant and soft on the ice, if she skates clean as she did at Skate America she has good possibilities of landing on the podium here.
Going for a podium position, two Russian girls will challenge against the Americans.
Julia Lipnitskaya impressed at Cup of China where she won the silver behind Mao Asada. As she is just 14 she lacks of maturity and will need an extra polish in her skate and choreography in the future. At Cup of China she earned 57 in the components score, which is a good score for a first senior appearance, but will be probably five or six points lower than Wagner's. Anyway, she is very consistent and has a difficult jumping content featuring triple lutz-triple toe and double axel-triple toe.
On the other hand, Elizaveta Tuktamisheva, a slightly older Russian skater, didn't repeat her astonishing grand prix of last year, but she

placed fourth at Skate Canada due to an injury recovery and growth spurt.
The field is not so competitive, so she can be a podium contender here.
Gold: Ashley Wagner (USA)
Silver: Julia Lipnitskaya (RUS)
Bronze: Elizaveta Tuktamisheva (RUS)