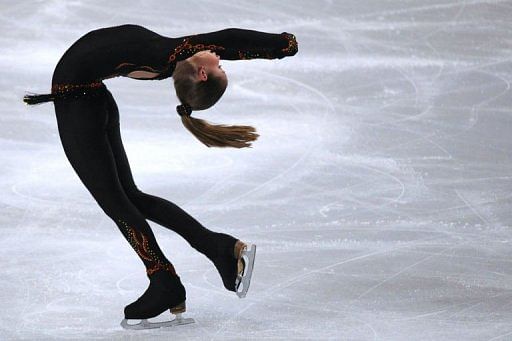 LADIES
Triple lutz-triple toe will be the key word for the ladies junior event, as a lot of skaters are trying this combination both in the short program and free skate.
Defending champion Julia Lipnitskaia is the favourite for the gold medal. She debuted in the senior grand prix this season, qualifying for the final, but an ankle injury compromised her latest competitions so that she could be not in top form for assuring a second world title. She lost the Russian junior title to an arising Elena Radionova who vastly dominated the Junior Grand Prix this season.
Elena has been unbeated all season long (except at Russian senior Nationals) and she neven put a foot wrong in her competitions. Let's see if Julia's experience will win over her.
Anna Pogorilaya could finish on the podium too, giving Russia a sweep, but Satoko Miyahara showed amazing things in her last competitions. The Japanese skater surprised everyone placing third at Japanese nationals over world bronze medalist Akiko Suzuki.
my video preview
MEN
With Maxim Kovtun competing at Senior worlds in March, the gold medal will likely go to Joshua Farris of USA. He is the most complete skater of the circuit with nice jumps, lovely lines that remind me of Jeremy Abbott. He is one of the few trying for a quad toe in the free skate and, althought it is not very consistent, his technical package will place him above his competitors.
Jason Brown is probably the most mature and delicate skater o the bunch, but his poor technical content will let him down as he doesn't have a consistent triple axel. If other skaters don't skate at their best he will have a shot for a medal.
Ryuju Hino, ninth at Japanese Championships and third at the Grand Prix Final, is in top form. He is very solid on technical elements and does two triple axels in the free skate.
Take an eye out for Boyang Jin of China (Han Yan will go to senior worlds instead) who could land two quads in the free skate.
my video preview
PAIRS
In the pairs event, a Russian sweep is expected, as all the three Russian team attending the competition won a medal at the grand prix final in Sochi. Federova/Miroshkin are the frontrunners of their team. A Canadian team could break the Russian dominance. Both Purdy/Marinaro and Jones/Beharry have a wonderful skating quality and especially Purdy/Marinaro have long beautiful lines, that are so unsual in pairs' figure skating. On the other hand, they are not consistent as the Russians, but they could actually finish on the podium if they commit.
DANCE
In the ice dance competition Russia will have a lock for the gold as well. Stepanova/Bukin looked quite unbeatable this season and will fight for the title in Milan.
Papadakis/Cizeron of France and Altridge/Eaton, USA National Junior champions, are medal contenders but another Russian team, Yanovskaya/Mogzov, who won last year's edition is in the mix too.
my preview video